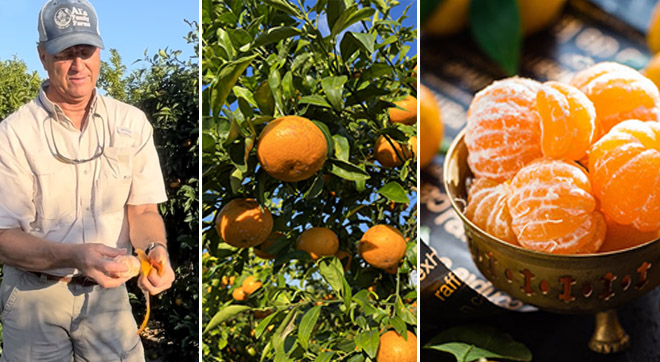 Winter 2022 Citrus at Al's
Unless you live in a grove, you can't eat sweeter, fresher fruit!
January Update- Al's is now featuring these top selling Florida Citrus Varieties. They're all currently available and in "Peak Season"

*We're still impatiently waiting on some of our Florida Honeybell crops to ripen up...

Note: This season we've added an all NEW, Western HONEYBELL option for those who only want honeybells. Their season starts later and runs later than ours does, lasting all the way thru March. (Western Honeybells are at the bottom of the listing)

Al's 100% Florida Navel Oranges


Best we've tasted in years...A great Navel Orange season!

A true Florida classic, nothing rivals the navel as the most famous eating orange in the world. This easy peeling, seedless orange put Al's on the map in the 1970's and is still a big favorite today. January is when they reach their absolute sweetest!

FL Navels & Ruby Red Grapefruit




The proud tradition of mixing freshly picked, Florida oranges and Ruby Red grapefruit goes back for generations. Our Indian River Red Grapefruit are world famous for their sweetness so forget the sugar bowl, you won't need it!




Florida Glory Orri Mandarins




Glory Orris are our newest, sweetest hybrid orange. Virtually seedless, sweet and juicy. Best of all they're super-easy to peel with a flavor that resembles Honeybells (both have mandarin parents). Glory Orris are even easier to eat and are quickly becoming the favorite at Al's from December - January.

FL Glory Orri Mandarins & Navel Oranges




This is the first time we've ever combined our #1 newest hybid- Glory Orri Mandarins with our most popular seedless, Florida Navels in the same box.
On Sale Now! One taste and you'll discover they truly are BETTER TOGETHER!




FL Glory Orri Mandarins & Ruby Red Grapefruit




Enjoy our amazing new #1 Hybrid, Glory Orris combined with our world famous Indian River Grapefruit together. Truly a match made in heaven!

All Ruby Red Grapefruit




We're Indian River Grapefruit growers with a passion for truly great grapefruit. Our grove is located in the only county (St. Lucie) that falls entirely within the world famous, Indian River Growing District. Forget the sugar bowl, you won't need it...This is serious grapefruit!

Western Honeybells


NEW- First Western Honeybells ship in February 2022 !

Since demand for Florida Honeybells is so high and the season so short, we always sell out fast.
This year we've added Western Honeybells to our lineup so you can savor the flavor longer into the season. They're not exactly the same as Florida's (same trees, different climate), but folks who've tried them tell us they're extremely beautiful and they really do like them.




Western Honeybells & Ruby Red Grapefruit


NEW- First Western Honeybells ship in February 2022 !

Western Honeybells join with our Florida Grapefruit in this package for those Honeybell lovers who know our Florida Grapefruit have no rival. We're still the #1 undefeated champion in the world for natural sugar and juice content.