The Citrus Club®
Please call 1-800-544-3366 for late signup options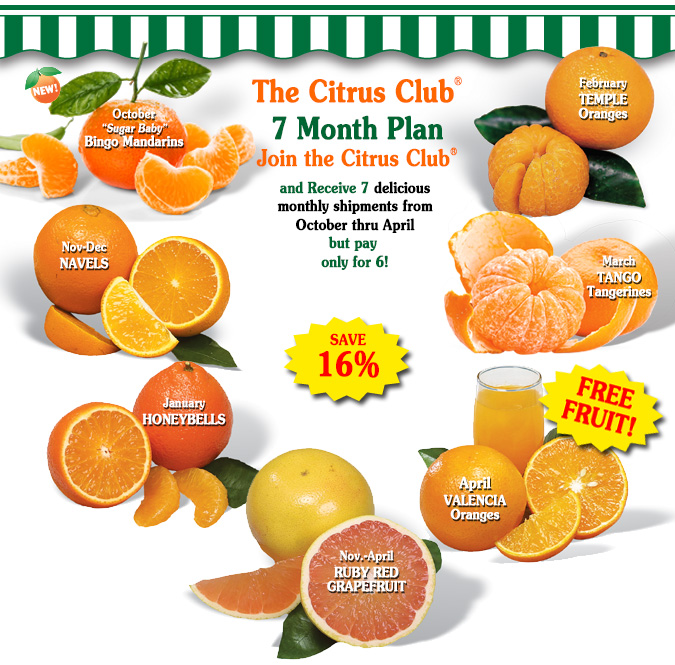 Why not treat yourself or someone you love to a season supply of my finest, mouthwatering Florida Citrus delivered straight to the door from October to April? (Late signup? No worries...Get first box in November, last box week of April 30.)

It's so easy to join—Simply choose all oranges, all Ruby Red grapefruit or a tasty mixture of both. In return, I promise to reserve you, my club member, the very best fruit from each picking. Once you've tasted the Al's Family Farms difference, I'm sure you'll agree—you won't find sweeter, fresher fruit anywhere.

Click here to view the current crop report.

Additionally, as a Citrus Club member you are never charged in advance, only near the time of each shipment. (If you prefer, you may request Charge Card Prepaid.)

Best of all, your last full-size box of fruit is FREE! You pay only for shipping!
If you prefer, you can customize the varieties and sizes any way you wish by calling 1-800-544-3366. The USDA requires citrus shipments to AZ, CA, LA and TX contain fruit only, no candies or honey. Free gifts will ship separately to these states. Plan or Club Shipments must be made to the same address each month. Cannot be combined with other offers.
NOTIFY ME WHEN THIS ITEM BECOMES AVAILABLE.
Citrus Club Orange Varieties


Please call 1-800-544-3366 for Late Sign up options

October

Early Pride Mandarins
Early Pride Mandarins and Bingo Mandarins are an early season success story at Al's in mid-October. First out are the Early Prides, next the Bingos Mandarins take center stage until mid-November. The first fruit of the season is super easy to peel, sweet/juicy/virtually no seeds! (Navels will be first for orders placed after NOV 7th.)

Nov & Dec

Navel Oranges
The holiday favorite, sweet, easy peeling, and best of all No Seeds! Navels are known as the King of the crop!

Jan

Royal Honeybells
Our most asked for variety! So juicy, we pack a bib inside each box. So rare and sweet, this exotic tangelo always sells out early.

Feb

Temples
This sweet, easy-peeling, juicy tangerine/orange cross has a uniquely tantalizing taste and aroma unlike any citrus variety in the world.

Mar

Sunshine Mandarins
"Sunshine Mandarins" are a new late season mandarin. They have a mild, sweet flavor, smooth texture and a zipper-skin that peels in a snap. Sunshine Mandarins are amazingly seedless too!

April

Valencia Oranges
This springtime classic is Florida's best juice orange. Delicious eating when sliced into quarters, or in cool, tropical fruit salads.



Oranges & Grapefruit Mixed
All Oranges
All Grapefruit