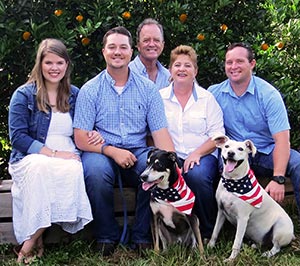 The Schorner Family
Gift fruit shipping at Al's is a 46 year old, family tradition. We take great pride in sending you and your gift recipients a box of our freshly-picked citrus each year. Nothing brightens up an otherwise dreary winter day better. You can depend on me to make absolutely sure that each gift box is filled with the sweetest, juiciest citrus fruit available anywhere at any price. You have my word on that.
If you're ever on I-95, in the Ft. Pierce/Vero Beach area, please stop in, we're easy to find. I'd love to meet you and share a free glass of the best orange juice you've ever tasted. We can go on a little tour if you like. I can show you how our team packs the pretty fruit for you as well as your gift recipients, and how we squeeze the not so pretty into perfect juice. You can browse the gift shop or enjoy lunch at the restaurant.
Directions– Take I-95 to Ft. Pierce, Exit #131B, Orange Ave. W (SR 68). Proceed to first light turning north onto Kings Hwy (SR 713). Keep going past Flying J's, one mile to next light (Angle Rd.). Proceed thru light and turn left into our driveway! 2001 N. Kings Hwy, Ft. Pierce FL 34951.
After 46 Years, we still do things the old fashioned way –
Did you know that these days, 9 out of 10 so-called gift fruit companies don't even own a packinghouse? They're mostly website order takers who forward your precious gift list to wholesale fulfillment centers for shipment. Don't you deserve the Al's Family Farms difference? Rest assured you can still trust Al's to pick, pack and ship your citrus ourselves. You deserve the best and we deliver! Our fruit is typically twice as good as anything you've ever tasted. If you demand consistently good fruit and unequaled service, you've found it. When you entrust your gift list to Al's you know each gift will arrive in excellence. Our job is to make you look good. Here's our simple, family pledge–
Let everything we do be a blessing to our customers–
I too, feel like you're a part of the family. While Dad was alive we worked together everyday. I'm 2nd generation. My son Matt graduated from FL Southern with his degree in Citrus and he now works with me everyday. Although Al (Matt's grandpa) passed away in 1987, we still practice what he and the Lord have taught us. That's why our guarantee is the strongest in the business! Dad wouldn't have wanted it any other way.