HONEYBELLS
Western Honeybell Crop Excellent (On Special Now!)…FL Honeybell Crop (see note below)
What's a Honeybell? A unique, very rare, hybrid-orange cross with a taste that's out of this world, best describes our fabulous Florida and Western Honeybells (also known as Minneola Tangelos). They're so rare, in fact, that less than one person in 5,000 has ever been lucky enough to taste this delicious fruit.

A NOTE ABOUT THIS YEAR'S FLORIDA HONEYBELL CROP:
MANY OF OUR FLORIDA HONEYBELLS WERE BLOWN OFF THE TREES BY HURRICANES IAN AND NICOLE. IN ADDITION, THIS YEAR'S FLORIDA'S HONEYBELLS ARE RIPENING SLOWER THAN USUAL, DELAYING THE HARVEST. BOTTOMLINE- FLORIDA HONEYBELLS ARE BOTH LATE RIPENING AND IN CRITICALLY SHORT SUPPLY.

GOOD NEWS SOLUTION- FOR THOSE WHO PREFER HONEYBELLS OVER FL NAVELS OR FL HEIRLOOM TEMPLES WE ARE CURRENTLY RUNNING A SPECIAL ON WESTERN HONEYBEES!

DUE TO THE CURRENT FL HONEYBELL SHORTAGE WE WANTED YOU TO KNOW AHEAD OF TIME IT IS POSSIBLE *WE MAY NEED TO SUBSTITUTE WESTERN HONEYBELLS IN PLACE OF FL HONEYBELLS THIS YEAR.

GREAT FLORIDA NEWS! Thankfully, ALL our other beloved FLORIDA varieties- Navels, Temples, Valencias, Ruby Red Grapefruit, & Juice Oranges came through those storms just fine.


Read "The Story of the Honeybell."
NOTIFY ME WHEN THIS ITEM BECOMES AVAILABLE.
Western HONEYBELLS On SPECIAL!





Since demand for our Florida Honeybells is high and the supply so extremely short, (especially this season after two hurricanes they're delayed and nearly sold out) WE CAME UP WITH A SOLUTION just right for Honeybell lovers!...

Last winter we added Western Honeybells to our lineup to give our customer more choices and a longer Honeybell season. They're not exactly the same as Florida's (same trees, different climate), but folks who've tried them tell us they're extremely beautiful and they really do like them. We get it- Some of you are die hard Florida fans and we appreciate that but two hurricanes this fall took half our Florida Honeybell crop. If you want to send a Honeybell gift this may just be your solution too.

To help introduce you to our Western Honeybells WE PUT THEM ON SPECIAL! Unlike this year's Florida Honeybells, there are no limits on package sizes on the Western Honeybells.

Better News- The WESTERN Honeybell season in longer than Florida's so now you can savor the flavor longer (thru MAR). They're not exactly the same as Florida's (same trees, different climate), but folks who've tried them tell us they're extremely beautiful and they really do like them.




Western Honeybells & Ruby Red Grapefruit SPECIAL!




Western Honeybells join with our Florida Grapefruit in this package for those Honeybell lovers who know our Florida Grapefruit have no rival. We're still the #1 undefeated champion in the world for natural sugar and juice content when it comes to growing grapefruit!

All FL Honeybells
FL Honeybells & Ruby Red Grapefruit Mixed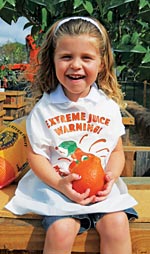 What exactly is a Honeybell? A specially developed hybrid orange, with a distinctive balance of citric acid and fructose that I guarantee to be incredibly juicier than any orange variety you've ever tasted.

Why is a Honeybell so rare? There's only a handful of special groves along the Indian River and West Coast of the U.S. that can grow a honeybell. Once it ripens we can't pick it! Instead, we must carefully clip it off the tree by hand to prevent damaging the delicate bell of the fruit. Finally, we meticulously polish and nestle each one into a protective tray to ensure safe arrival for you.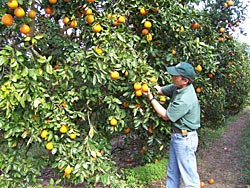 When they arrive, get ready for a treat... Tear open the box and quickly place a few Honeybells in the fridge to chill if you've got the patience (if not, we understand). Better have a towel ready, too). Honeybells are a snap to peel and eat, so take a really big bite and say, "Ahhh...," the pleasure is indescribable!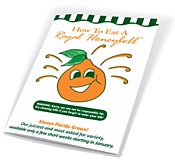 | | |
| --- | --- |
| A "Survival Kit" is included free in each box of FL Honeybells, featuring a Honeybell Bib and light-hearted instruction booklet. | |