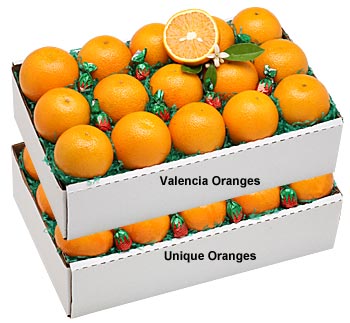 Valencia Orange and Unique Orange Combo
Combines Florida's best juice orange with a rare Jamaican treasure
VALENCIA ORANGES were first introduced by the Spaniards,and are the world's most popular orange. Their rich, golden, juice has a flavor that is unmatched. Valencias are Florida's best juicing orange. Valencias are also delicious to eat sliced in wedges we call "smiles", or in a cool, fruit salad.

SAVE $7 NOW! Offer Expires 4/21/19

UNIQUE ORANGES are a rare, new Jamaican hybrid that's a cross between a mandarin orange and a tangerine. It has an uniquely tantalizing taste & aroma unlike any orange in the world.