Al's Rare HONEYBELLS
"Limited" Supply...Reserve Rare, Honeybells now!
What's a Honeybell? A unique, very rare, hybrid-orange cross with a taste that's out of this world, best describes our fabulous Florida Honeybells (also known as Minneola Tangelos). They're so rare, in fact, that less than one person in 5,000 has ever been lucky enough to taste this delicious fruit.

Read "The Story of the Honeybell."

Honeybells are honeybells, right? If not, then what's the difference? For starters, Al's own harvesters carefully hand clip our own crops of 100% Indian River Grown Honeybells (always clipped, never picked). Next, we rush them direct from local groves to our own historic packinghouse located in Fort Pierce, Florida in the heart of the world famous, Indian River growing district. There our experienced packers (most of our packers have been packing honeybells for 10+ years) lovingly hand-packs the very best into, sturdy, well padded FULL-SIZED TRAYS. Al's ships MORE POUNDS OF FRUIT PER TRAY than other shippers so It all adds up to a BIG DIFFERENCE when you desire great value combined with unsurpassed quality.


Honeybells for the Holidays
Since Royal Honeybells are only available for a few short weeks January - February, how could they have become our most asked for holiday orange? It's simple- We've made Honeybells for the Holidays, Two Memorable GIFTS IN ONE!
First, you'll astonish them with your thoughtfulness before Christmas, when an impressive honeybell gift card arrives, naming you as the generous sender of a precious gift to come.


See "Honeybell Gift Card."


Then in January or February, (depends on weather and bloom timing), after the other gifts are all but forgotten, your glorious gift of Florida Honeybells arrives making you the center of attention!



All Honeybells
Honeybells & Ruby Red Grapefruit Mixed


Now you can choose an optional "Add-On" to compliment your Citrus Gift upon Checkout...

Add-on #1 "The Classic" The deluxe for over 30 years- We'll add a 1/2 lb. of chocolate dipped coconut patties, a 8 oz. jar of orange marmalade, and a 8 oz. jar of fresh fruit preserves. (Shown)

Add-on #2 "Sharon's Homemade Fudge" We'll add a 1/2lb box of Sharon's Homemade Chocolate Fudge
~or~
We'll add a 1/2lb of "Sharon's Homemade Chocolate Pecan Fudge"

Add-on #3 "Orange Blossom Honey" We'll add a Full 1lb. jar of Orange Blossom Honey.

Add-on #4 "Citrus Hand Cream" We'll add a Large 4 oz jar of our Luxurious Al's Citrus Hand Cream.

For only $11.95 more It's the perfect addition to an already wonderful gift of fresh Indian River fruit.

Note: As shown in picture, "Add-on" may replace 1 to 3 pieces of fruit in your tray.

Exceptions:



Add-Ons are not allowed to AZ, CA, LA, TX, AK or Canada due to USDA restrictions.


Add-Ons are not available on the 1/5 bushel due to package dimensions.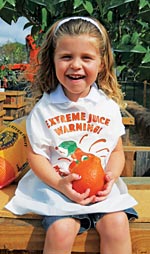 What exactly is a Honeybell? A specially developed hybrid orange, with a distinctive balance of citric acid and fructose that I guarantee to be incredibly juicier than any orange variety you've ever tasted.

Why is a Honeybell so rare? There's only a handful of special groves along the Indian River and West Coast of the U.S. that can grow a honeybell. Once it ripens we can't pick it! Instead, we must carefully clip it off the tree by hand to prevent damaging the delicate bell of the fruit. Finally, we meticulously polish and nestle each one into a protective tray to ensure safe arrival for you.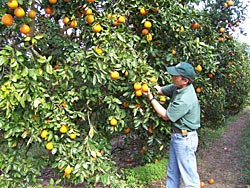 When they arrive, get ready for a treat... Tear open the box and quickly place a few Honeybells in the fridge to chill if you've got the patience (if not, we understand). Better have a towel ready, too). Honeybells are a snap to peel and eat, so take a really big bite and say, "Ahhh...," the pleasure is indescribable!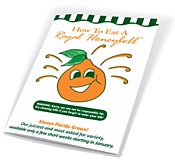 | | |
| --- | --- |
| A "Survival Kit" is included free in each box of FL Honeybells, featuring a Honeybell Bib and light-hearted instruction booklet. | |