Crop Report: LAST CALL for Unique Oranges (aka Ortaniques). We are down to our last few rows of trees in the Unique grove so if you haven't yet done so now is the time to order Uniques before they are gone. The Valencia Orange harvest is in full swing and our Red Grapefruit are orange-sweet.
We leave for Georgia in a couple of weeks to start digging out private stock of Vidalia Onions. We'd love to share some with you, just click Vidalia Onions.
March 16, 2015 Update:
Crop Report: First we are very thankful for great weather. This winter has been a mild one here other than February's single cold night (35 degree low). Most of you would have considered that a heat wave given how cold its been up north lately. A good rain about once a week has also been helping too as our trees are just beginning to bloom now. I believe we set a better crop when the soil stays moist so I'm pleased we have not had to run the irrigation much lately.
Spring has Sprung in Florida...What's Shipping Now?
Honeybells: Royal Honeybell shipping ended a few weeks ago.
Unique Oranges (aka Ortaniques): Yes! we are now shipping our remarkably flavorful and sweet Unique Oranges as of this week. This rare fruit grows in our own special grove in Vero Beach that has particularly good soil. I believe they are the finest grown anywhere in the world. Uniques are happy travelers too with a firm peel that helps them maintain that just-picked feel for many days. Try some and you'll agree its love at first bite.
Valencia Oranges: We aslo started shipping Valencias last week. Valencias are a lot like Navels in that they look like a traditional orange and have very few seeds. Great for hand-squeezing or sliced in a fruit salad, Valencia's have a rich orange flesh. Their juice content and quality is the highest of any orange variety. This has helped to make Valencias the best known orange worldwide.
Ruby Red Grapefruit: Now is time when true grapefruit lover's really dig in to their favorite fruit. Why? Because the sugar-content rises unusually high as the fruit has been on the tree for a full 12 months in the Florida sun. From now until June some grapefruit will actually attain over 12 brix on the refractometer (sugar-tester). That's super sweet and this is when people that say they don't like grapefruit get converted in droves to grapefruit lovers.
Note- Temple Oranges are half tangerine, half orange and are an excellent substitute for Honey Tangerines with cropped poorly last spring. They don't specifically appear on our website but are in our store so If you'd like to get some Temples just call us and we'll be glad to ship you some, they're super-sweet right now. Be sure and tell them to specifically ship Temples not Uniques as Uniques are "Jamaican Temples".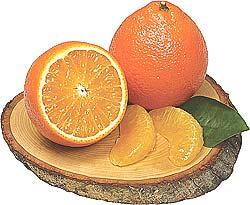 January 1 , 2015 Update:
HONEYBELLS ARE IN!
Happy New Year!...Honeybells are our most asked for variety. We just started clipping the very first Honebells of the season and they are tasting great already. We will really ramp up the clipping over the next 2-3 weeks and always sell out fast so please be sure to order your Honeybells without delay, I don't want to have to wait until 2016 to send you more.
FYI- Navels are sweet as sugar too and can also be combined with our world famous, Indian River Ruby Red Grapefruit.. The Navel/Honeybell combo is on special right now.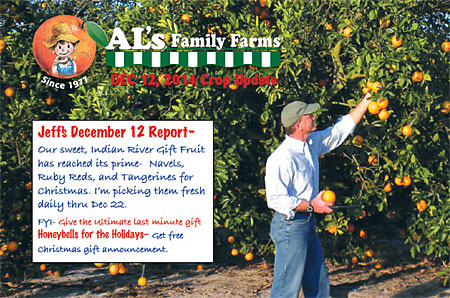 December 12, 2014 Update:
The packinghouse is running smoothly and the harvesting weather is perfect. Our plan is to keep on picking and shipping right on through Dec 22th. Our holiday crop of Navels and Ruby Red Grapefruit are the largest and prettiest I've seen in years with fantastic sugar and good color. This year's Honeybells are ripening nicely and my sugar tests are reading higher than in prior years. Of course, "Honeybells for the Holidays" are still the best last minute gift as they naturally don't arrive until January.
That's all for now and may God Bless you with the gift of health,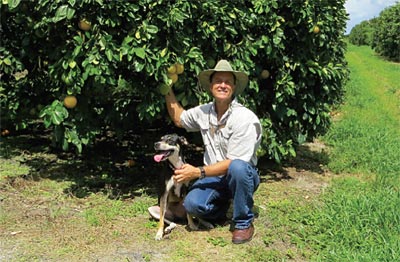 October 31, 2014 Update:
Welcome back to our 37th CITRUS SEASON and thanks for choosing Al's Family Farms! God's goodness is so evident in our groves as once again as we had another calm, hurricane/tropical storm-free growing season. Rain? Man did it rain in September but thankfully, not too much. The trees look better than I've seen in many years. Like I always say—when trees are healthy the fruit reflects it and I'm so proud of my sons Brad and Matt (you too Mr. Ray) who work so hard in our grove. Tomorrow we will be picking Red Navels , Ruby Reds , Sunshine Tangerines and Navels for our store and for shipping to those of you who simply can't wait any longer for the taste of Al's fresh, Indian River Citrus. Keep in mind Thanksgiving through Christmas is when our Indian River Navels really reach their peak of ripeness. Look for those super-juicy Honeybells to come in right after Christmas.
May 28, 2014 Crop Update: Ruby Red Grapefruit, Vidalia Onions, Valencia Oranges and Georgia Chin Drip'n Peaches are our main focus right now.
I especially want to thank you for all for yet another fruitful year. Yes, we are still shipping Valencia Oranges from our Juice grove along with our sugar-sweet Ruby Red Grapefruit. We'll continue as long as the quality stays strong. Near the close of the citrus season, firmness and internal strength is more important than beauty. When I feel citrus won't arrive safely in the heat I will stop shipping and then resume when our Navel Oranges are ready to harvest in the early fall. (Valencias will remain available in our Fort Pierce Citrus Shop and at the Fort Pierce Farmer's Market.)

Don't delay- Vidalia Onions should remain available for another week or so. Brad and I packed everyone's orders with great care the week of May 12th. Our Georgia team will continue to pack your orders each week until they're gone. We brought home a whole truck load to share with friends and store customers in Fort Pierce.
Chin Drip'n Georgia Peaches are ripening in the warm hills of the western Georgia orchard. The colder than usual Winter slowed ripening by about one week so we should begin shipping big, juicy, free-stone peaches by about June 23rd. Our low cost, 2 Day Air ensures they arrive in perfect condition. Everyone is thrilled with our peaches and look forward to them every year.
April 5 , 2014 Crop Update: Easter's right around the corner so we're adding a 1/2 lb. fudge bunny mold full of Sharon's homemade chocolate fudge to our Easter Mega Tray to celebrate. Uniques, Valencias, and Honey Tangerines continue to ship along with our sugar-sweet Ruby Red Grapefruit. Great weather, ample rainfall and lots of sun are just right in the grove. Happy Easter and May God bless you with the gift of health!
Feb. 28 , 2014 Crop Update: The smell of orange blossoms are beginning to fill the air in our orange grove and we're so pleased to begin our annual "Unique Orange" aka Ortanique harvest. The variety lineup is changing now as in a few days we say "so long" to our beloved Navel Oranges and have already said "hello" to Unique Oranges, Honey Tangerines and Valencia Oranges.

Just this week Brad was helping me in our grove, checking the irrigation for clogged micro-jet emitters (sprinklers). I lost him inside one of the trees. When he popped out from behind a branch I clicked the picture you see below. It's very satisfying when hard work pays off with a beautiful crop of super-sweet Uniques to send to our freezing friends up north.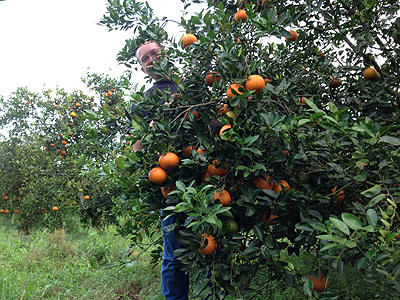 Feb. 4 , 2014 Crop Update: are on their way. We are now packing orders marked for arrival week of "02/02/2014". It's a great feeling to finally have all those sweet, January honeybell oranges completely shipped out to all destinations. We still have a few more honeybells left in the grove but don't delay they are going fast. Our navel oranges are super-sweet right now too and I should have them for about 2 weeks or so and then that's it. I am starting to harvest Temple Oranges for Valentine's Day this week and maybe a few Uniques too. Valencias are just around the corner too.
Jan. 26, 2014 Crop Update: Great weather continues and we are rapidly catching up on Honeybell orders in our system for arrival week "01/19/2014" and earlier. We should have all the orders for arrival week of "01/12/2014" and earlier plus all those marked for "January" completely shipped out to all destinations no later than this Monday or Tuesday. Orders are typically shipped in the date order they were received. We're working efficiently now and should be completely caught up by mid-week. FYI- Our Navels are fantastic too so we included a SPECIAL on our Honeybells & sweet, juicy Navel Oranges Combo packages to save you $5.
Jan. 20, 2014 Crop Update: Perfect weather for several days has been great for harvesting and we have worked diligently to ship out all Honeybell orders in our system for arrival week "01/05/2014" and earlier. We are now working on shipping the remainder of our orders selected for arrival week of "01/12/2014" combined with those folks who requested arrival anytime in "January" when the fruit tastes best. Orders are typically shipped in the date order they were received. This spell of cool, dry weather is exactly what the Doctor ordered and we're working efficiently towards getting caught up again on Honeybells. FYI- Our Navels are still fabulous! Check out the SPECIAL running now on our Honeybells & Navel Orange Combo.
Jan. 13, 2014 Crop Update: Good weather today meant we had a good day harvesting honeybells and packing today. Tomorrow looks like rain, rain, and more rain, but we'll still be out trying to clip more honeybells and navels. After tomorrow the forecast looks great. Cool, dry weather is exactly what we need to get caught up.
Jan. 11, 2014 Crop Update: It's time! The rain has finally stopped (5 + inches yesterday) and the blizzard is over to our north so we are back out clipping Honeybells and picking grapefruit today. Navels tomorrow. Everything seems to have finally fallen into place so we should be wide open on Honeybell shipping starting Monday. Orders are shipped in the date order they were received.
(Oct-Nov. orders for Honeybells first, then December's, then January's.) Without rain we should be caught up shipping within about 12 days. Thanks again for your patience.
Jan. 8, 2013 Crop Update: Bitterly cold freezing temps from Jacksonville, FL northward stopped perishable citrus shipments from leaving Florida until today. It would not have been wise to risk freezing everyone's fruit. Now that temps to the north are returning to normal and our Honeybells are finally ripening we will again resume packing and shipping navels, honeybells, grapefruit, tangerines and Pummelos. Thank you so much for your patience!

Remember- Al's really is a small, family farm, not a factory. Since our inventory hangs on a tree and not in some warehouse it takes us a few days to recover when cold weather up north interrupts our packing schedule.

This latest cold snap actually helped the citrus peel to color up better but I am still careful not to clip our honeybells too soon as some crops are ready but others still need a few more days to reach their prime. Harvesting over the next 3 days will also be a challenge as rain is in our forecast. Thank God that terrible cold weather stayed 200 miles to our north and all our crops came through in terrific shape.

January 4 Update: This is what I call Great Fruit! Our sweet, juicy Navel oranges have reached their prime and are guaranteed to delight. I know your winter has been bitterly cold up north but we have actually had record warmth here in Florida. HONEYBELL REPORT as of last night, January 3, 2014- We finally got our cool weather and good things are happening in our Honeybells crops. Yesterday evening Matt and I were thrilled to discover a good color change and sugar content rising quickly in our Fort Pierce Honeybells. I have given instructions to begin clipping in the Fort Pierce grove on Monday a.m. weather permitting. We should have honeybells in our store by Tuesday a.m. Our first truck heading towards the far west should go out on Tuesday afternoon. Please be patient... There are many Honeybell orders already in the system and to ship the very best quality honeybells, we base packing timing on each crop's sugar level, not a computer date.
January 3 Update: This is what I call Great Fruit! Our sweet, juicy Navel oranges have reached their prime and are guaranteed to delight. I know your winter has been bitterly cold up north but we have actually had record warmth here in Florida. Honeybells are nearly ready but I am patiently waiting for full maturity. They are "good" now but "good" is simply not good enough for Al's Family Farms customers. I am waiting for "great" so I still need a couple more cool nights to set the sugar content and give them a bit more orange peel color. I was out checking the young tree honeybell grove last night with Matthew, my youngest boy. Today I will be out in the big grove doing more tests and I'll keep you updated on what day I can give Felix the go ahead to begin clipping Honeybells for 2014. It should be any day now and I sure do thank you for your patience.
October 31st Update: I am so very pleased with our early citrus harvest. Pleased enough that I have decided to start sending November's a.s.a.p. fruit orders out one week ahead of schedule. Our navel oranges already taste so good there's simply no point in delaying. The Indian River Grapefruit are particularly pretty this season with a good blush and our Tangerine harvest has just begun. In few words, "it's a very good season here at Al's Family Farms."
September 13th Update: I was out and about the groves testing fruit this weekend and from what I'm cutting and tasting, everything seems to be ripening exactly on time. We normally begin harvesting Navels and Grapefruit for Al's store by the 2nd - 3rd week in October and this year should be no exception. Of course store fruit and gift fruit are not the same. The locals ask us everyday- "how much longer?" We'll fill the store with early citrus as the locals just need their "fix". For them it's O.K. to start early but not for you. Shipping customers are special and require particularly fine fruit. I feel the citrus will be ripe and ready enough to begin shipments by November 6 (give or take a few days). That's pretty much a "normal" startup schedule for us and lends itself well for some mighty fine-eating fruit for Thanksgiving. Club members can expect to receive the first box by mid-November but be sure to renew by October 31 to get the extra freebies for ordering early (see below).