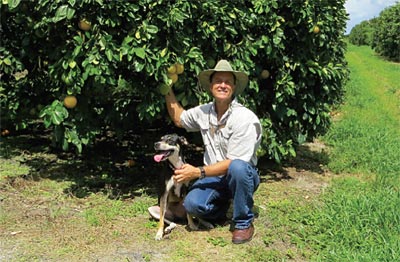 September 14th Update:
From what I'm cutting and tasting, everything seems to be ripening on time. We normally begin harvesting Navels and Grapefruit for Al's store by the 3rd week in October and this year should be no exception. Of course store fruit and gift fruit are not the same. The locals ask us everyday- "how much longer?" We'll fill the store with early citrus as the locals just need their "fix". For them it's O.K. to start early but not for you. Shipping customers are special and require particularly fine fruit. I feel the citrus will be ripe and ready enough to begin shipments by November 6 (give or take a few days). That's pretty much a "normal" startup schedule for us and lends itself well for some mighty fine-eating fruit for Thanksgiving. Club members can expect to receive the first box by mid-November but be sure to renew by October 31 to get the extra freebies for ordering early (see below).
June 16, 2016 Update:

We will continue shipping beautiful juicy-sweet Florida Valencia Oranges for a few more weeks.
What's coming into its prime? Right now it's our Georgia Chin Drip'n Peaches shipped direct from the orchard! You simply won't find better peaches anywhere at any price. Order now while the special 13 for the price of 9 is still running...
That's it for now, and may God Bless you with the gift of health this summer
May 14, 2016 Update:

Last Call For Grapefruit! Felix warned me we're down to our last three rows of grapefruit trees in the grove. That means all grapefruit orders must be in by Tuesday, May 17 or you'll have to wait 'til next November to enjoy more Indian River, Ruby Red Grapefruit.
We will continue shipping beautiful juicy-sweet Florida Valencia Oranges into early summer.
Our private stock of Genuine Vidalia Onions in Georgia is going fast so if you haven't yet done so, its not too late to order our famous onions.
Georgia Chin Drip'n Peaches make an awesome Father's Day gift!
March 15, 2016 Update:
Quite the Amazing Crop Report-
Riding the grove on Wednesday I could not believe my eyes- Honeybell trees with glorious Honeybells still hanging on their branches in mid-March! These "May bloomers" were nearly invisible during the January harvest, but now they've sweetened and colored up beautifully for you to seize one last chance to enjoy a rare, juicy box of Honeybells in March.
The bloom is finally going strong and the bees are loving it in our Unique Orange grove. This is where a large portion of our Orange Blossom Honey is collected as the bees work to convert the flowers into delicious fruit.
As the fragrance of orange blossoms fill the air, our Unique Oranges (aka Ortaniques), Valencia Orange and Ruby Red Grapefruit harvests shift into high gear. Let's celebrate with FREE SHIPPING on ALL MEGA- TRAYS, and Easter Mega-Trays; yes, that's every available citrus variety just in time for Easter... Offer ends Monday, March 21, 2016.

February 11 , 2016 Update:

Just In! TEMPLE ORANGES
Honeybells just sold out so what's next and are they just as good? Temples of course! Actually the Temple Orange crop seems to be in the best shape of all the varieties we have shipped so far this season. They seem to have thrived in this wettest and until January the warmest of all Florida winters. The Temple Orange, aka Royal Mandarin is truly a magnificent orange. It combines the peeling characteristics of a tangerine with the size and full bodied juice content of a sweet orange. They are my favorite variety of all with a pleasant aroma that matches their rich flavor. Available only a few short weeks too, don't delay to order Temples today.
FYI- It's National Grapefruit Month! That means our Indian River Ruby Red Grapefruit have reached their peak of sweetness.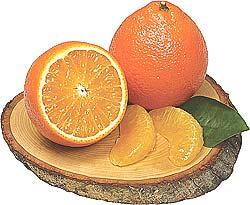 January 23 , 2016 Update:
HONEYBELLS ARE STILL GOING STRONG!
Honeybells are our most asked for variety. We've been clipping and shipping them since early January but thanks to the cold weather this month that orange color I love to see has finally arrived. They are tasting great and so beautiful. Its hard to predict how much longer I will have them but they always sell out fast so please be sure to order your Honeybells without delay, I don't want to have to wait until 2017 to send you more.
FYI- This is a great week for our world famous Navels too. They're sweet as sugar too and can also be combined with our world famous, Indian River Ruby Red Grapefruit. We start picking TEMPLE ORANGES aka Royal Mandarins, next week as well and they are gorgeous.
December 19, 2015 Update: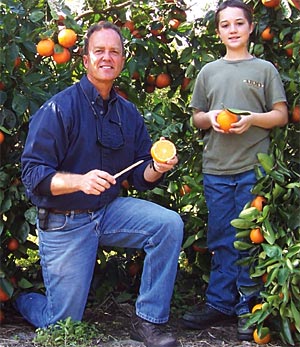 Matt's favorite orange since he was still a little guy? Honeybell
"Honeybells for the Holidays" are always the perfect last minute gift as they naturally don't arrive until January. Since Honeybells are our most asked for variety but they don't ripen until January here is how to give Honeybells for the Holidays: First- they'll know you remembered before Christmas since we immediately send out first class, over-sized, Honeybell gift announcments naming you the generous sender of their precious gift to come. Second- In January, after the other gifts are all but forgotten, your glorious gift of Royal Honeybells arrives making you the center of attention!
CHRISTMAS GIFT SHIPPING PLAN- Since Christmas falls on Friday this year, we're going to KEEP ON PICKING & SHIPPING FRUIT THRU TUESDAY, DEC 22. All last minute orders also receive a FREE, First Class Gift Announcement notifying your recipients you ordered their gift and its on its way.
Packinghouse Report- Everything is running smoothly and the harvesting weather today is perfect. Yesterday's cold front makes today our coolest day of the season so far and it feels glorious. We are forecast to have mid-80's on Christmas Day but I'd rather be warm than frozen, so we are still grateful. Our holiday crop of Navels and Ruby Red Grapefruit is already pretty but this cold snap will both increase the sugars and brighten the peel even more.
Honeybells are ripening nicely and once the cooler weather sticks around it will brighten their peel so we can begin the harvest. I'm guessing we will start clipping Honeybells around Jan. 4th. and keep clipping fruit daily until everyone's order has been shipped. Clipping is tedious and they have to be packed with great care so it usually takes us about 3 weeks to get everyone's Honeybells shipped out but this extraordinary gift is truly worth the wait.
Rest assured, my packing team and I will be putting an extra measure of care into every gift box we ship for you. Just sit back, relax and wait for the happy "thank you's".
That's all for now and may God Bless you with the gift of health,



November 30, 2015 Update:
Crop Report: Hope everyone's Thanksgiving was wonderful and welcome back to another delectable, juicy and healthful citrus season at Al's Family Farms. I'm very pleased with this year's crop of super-sweet, locally grown, Navels (Nov. - Feb.), and sugar-sweet Red Grapefruit (Nov. thru May). Both are now fully ripe and ready to ship. As a matter of fact my recent grapefruit, sugar testing shows them even sweeter than last season at this time. Sunshine Tangerines, the Christmas Tangerine (Late Nov. thru Jan.), and Christmas Red Navels round out our fall lineup. Of course our "oh so dripping with juice" 100% Florida Grown Honeybells are going to be fantastic this season as always in January.
Rest assured, my packing team and I will be put an extra measure of care into every gift box we ship for you this holiday season. Just sit back, relax and wait for the happy "thank you's".
That's all for now and may God Bless you with the gift of health,



July 1 , 2015 Update:
Crop Report: Our Georgia Chin Drip'n Peaches harvest has begun and as always they are gorgeous as usual. We are still shipping a limited quantity of Red Grapefruit, and Valencia Oranges weekly from Fort Pierce but our Georgia Chin Drip'n Peaches are the main focus right now. The grove looks great and as you can see in the picture to the right, Matt Schorner's citrus trees he planted in October 2013 are growing beautifully.
For those of you who are locals or visitors traveling to Al's Family Farms be aware that our gift shop and citrus store re-locates to Al's Red Barn Grill (our little Red Barn) each summer from June - October. It's right across the driveway from the Big Red Barn. We still have all your favorites- fresh-Squeezed juice, honey, jams, gift items, plus seedless watermelons, vine-ripe tomatoes, and Georgia Peaches. I look forward to seeing you there!