There is a Difference!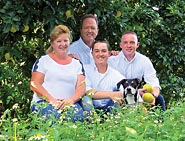 1) Al's is a 39 year, 3rd generation, American family owned business. We strive to grow, harvest, pack & ship only the highest quality, local fruit. Al's proudly features more local citrus varieties than anyone in the Indian River growing region.

2) It all starts in the morning with careful harvesting by Felix in the groves. Oldest son, Brad then carefully offloads the fruit at our packinghouse. (This year Brad's little brother Matt will assist while Brad is away serving in the U.S. Marine Corp.)
My experienced team then takes over inside, carefully inspecting each Navel, Honeybell and Ruby Red a minimum of 8 times prior to packing. Sharon helps with grading and still takes the time to make each gift basket bow by hand and every batch of fudge herself. Matt also straps and stacks fruit boxes and helps in the store after high school.

As for me- I'm responsible for supervising crop selection, growing, harvesting, washing, waxing & grading of virtually every piece of fruit we pick.
Why do we control everything? It's simple. Less mistakes. That's why we're able to back every shipment with our 100% No Nonsense guarantee. Grandpa Al wouldn't have wanted it any other way.

P.S.- Low Shipping on all of our packages this year makes it more affordable; especially when one delicious gift box of fruit satisfies the entire family!